Presentation of NGP PLASTIC

Vision and Mission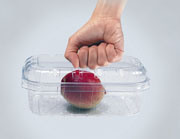 NGP PLASTIC's Vision is for it to hold a leading position both on the Greek market and on the Balkan and European markets, with a strong brand name, innovative products and new technologies.
Provide high-quality products that fulfil all the fruit/vegetable packaging specifications and the needs of the foods industry.
Produce and use new environmentally friendly plastic materials.
Become the ideal business partner to assist its customers in building their future by fulfilling their requirements, managing their daily needs and fulfilling their aspirations.
© 2021 NGP PLASTIC

κατασκευη ιστοσελιδων: