Quality Assurance

New EasyPack range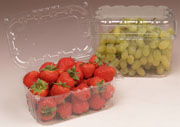 NGP PLASTIC ABEE
designed, tested, developed and now produces the new EasyPack packaging to fulfil the new requirements of its customers.
The unique design of the reinforced lid, bottom and side walls on the products of the EasyPack range:
Improved rigidity of the packaging compared to other products on the market
Increased number of side perforations on lids to improve the circulation of air within the package
Speed, economy and sophistication in the packing room since lids and punnets are produced simultaneously.
Also, PET film is available in the natural clear colour or with the option of a clear lid and coloured bottom. The advantage of the transparency of PET film and the largest possible flat surface of the side walls and the lid offered by EasyPack products (European patent pending) provide the best possible display of the packaged fruit.

The innovation of EasyPack products

They are unique due to the special design of the reinforced lid, bottom and side walls, which provide:
More side perforations on the lid
Maximum flat surface of side walls and lid
Clear improvement in the circulation of air between the stacked containers compared to other products in the market
More efficient cooling, draining and reduced moisture concentrations
Reinforcement of mechanical durability
More free package surfaces for unobstructed display of packaged fruit
Longer preservation of freshness and quality features of the packaged products


2 in 1 ergonomics

The range of EasyPack products (punnet and lid together) offers standardised packaging, practical stacking, allows for automated packaging and above all reduces the storage and transport costs because it consists of 2 products in 1.

Thanks to the continuity of the EasyPack products, the lid fits easily on the punnet and clasps completely tight, excluding any possibility of the product coming into contact with other products on its journey from the producer/packager to the end consumer.

Mechanical durability

A combined system of reinforcement of five different areas of EasyPack products functions concurrently and produces high level mechanical durability of the packaging in continual or periodical column and cross stacking. This is thanks to the multiple rigid articulations of the lid which are combined with the peripheral rigid wedges of the bottom, with the help of the vertical nerves located around the four corners of the side walls and the specially designed stabilisers that connect the lid to the punnet of the particular package.

Environmental protection

Products manufactured from biodegradable polymers such as PLA have no negative effects on the environment. Fully degradable in only a few months just like organic waste in hydrocarbons and water
© 2021 NGP PLASTIC

κατασκευη ιστοσελιδων: