Presentation of NGP PLASTIC

Workforce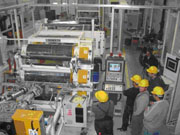 The company's production and administration departments have a total workforce of 30 employees who are specialised in the operation of sophisticated machinery and are familiar with the required specifications for fruit/vegetable packaging and that of other food products, catering to the daily needs of our customers.
They are a significant asset to the company, which is strengthened and continually optimises its organisation and competitiveness.
Also, the staff's skills are continually developed with ongoing professional training in areas such as production methods, machine management, customer/sales management etc.
© 2021 NGP PLASTIC

κατασκευη ιστοσελιδων: